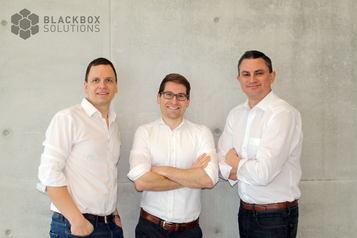 Munich / Unterschleissheim, January 25th, 2019 – High-Tech Gründerfonds (HTGF) - Germany's largest seed investor - as well as Bayern Kapital and another private investor from the BayStartUP network are investing a seven-figure amount in the logistics digitizer BLACKBOX Solutions GmbH. In addition, BLACKBOX Solutions was able to secure further funds from the Bavarian Program for the Promotion of Technology-Oriented Business Start-ups (BayTOU), so that a total of around 2 million Euro in seed funding is available. Munich's smart tracking solution makes logistics processes transparent across all delivery routes and storage locations. Networked sensors are used for this, which the company attaches to logistical assets at comparatively low investment costs and operate maintenance-free for many years. They automatically determine the location and condition of goods and carriers and can in the future transmit this data from almost anywhere in the world to the customer's IT systems. Together with comprehensive software services for evaluating and transforming the data into valuable insights into the underlying processes, this ultimately results in significant cost savings for industrial, commercial and logistics companies.
Christian Ziach, investment manager at HTGF, is convinced of the approach of BLACKBOX Solutions: "Logistics is a growth market for which BLACKBOX Solutions offers a highly innovative solution, which opens up new potential for efficiency. Many companies that want a transparent logistics chain are now failing in real-time data capture, delivery and analysis solutions because IT integration is too time-consuming and costly. We like the BLACKBOX Solutions approach because it overcomes those barriers."
Dr. Georg Ried, Managing Director at Bayern Kapital, says: "Efficient and fast logistics are becoming increasingly important for our economy - and are still largely analogue. BLACKBOX has developed a digital solution that can make logistics across all delivery channels and deposits more transparent, reliable and flexible. In short, a compelling digital product in a fast-growing market."
Dr. Thomas Fusch, Germany's director of the globally operating automotive logistics company Schnellecke, says: "We are systematically evaluating new technologies for digitizing the supply chain. The striking thing about Blackbox's approach is that it makes cargo carriers and containers - even without local infrastructure - visible along the supply chain."
Dr.-Ing. Wolfgang Vogl, founder and Managing Director of BLACKBOX Solutions, explains the difference to previous solutions: "Our technology avoids local infrastructure and reading points wherever possible. Instead of scanning containers and goods only occasionally with reading gates or laborious manual scanning, our smart tracking sensors transmit process-critical data such as location information or status data - such as temperature values - wirelessly via publicly available wireless networks to customers' IoT and ERP systems. This approach, to create a complete and consistent digital image of the real flow of goods, also does not require any integration into the customers' wireless infrastructure. Compared to local wireless approaches such as WLAN, ZIGBEE, BLE or LORA, this reduces the complexity immensely and increases the security and roll-out speed. BLACKBOX Solutions is leveraging promising Low Power Wide Area Network (LPWAN) technologies such as Sigfox and NB-IoT, enabling it to cover now large areas of Europe without additional infrastructure."
The customers of BLACKBOX Solutions already include well-known industrial companies, automobile manufacturers and logistics service providers. BLACKBOX Solutions will use seed financing to expand its product portfolio of smart tracking sensors and to further develop the software services for the automated management of networked sensors and processes. 
Also read (in german):